When people travel from their homelands to other countries in order to obtain any medical treatment, it is referred to as medical tourism or health tourism. They may travel in order to get treatment for a certain disease that is either not available or is too expensive to afford in their respective country.
As listed by Healthy Travel Media, publisher of Patients Beyond Borders (PBB), here are the top 10 medical tourism destinations around the world.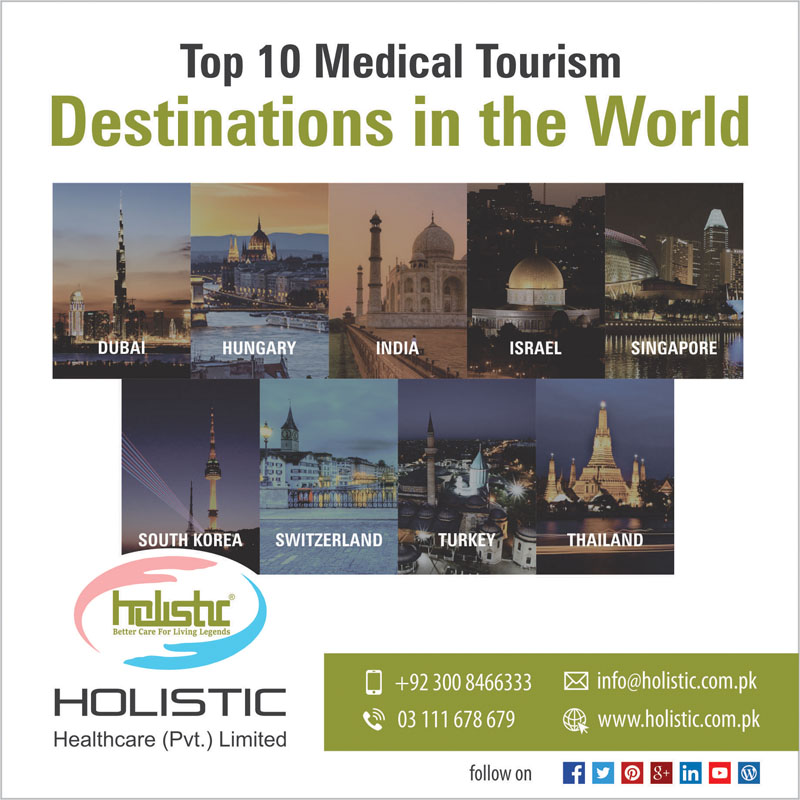 1. India
India is one of the top most visited places in the world for medical treatment purposes. Plastic surgery in India is well-known for its cost cutting procedure and state of the art technology. India saves 65% to 90% of the money expanses in healthcare industry as compared to the cost of similar services in the US.
Hospitals for the purpose of medical tourism in India are recognized by the National Accreditation Board for Hospitals and Healthcare Providers (NABH) and Joint Commission International (JCI).
2. Brazil
Brazil ranks as the best in healthcare delivery in Latin America as per The World Health Organization (WHO). It is the third most visited tourism country for cosmetic and plastic surgery and Brazilian butt being the most favorite among patients.
Brazil has 43 hospitals recognized by the JCI, and claims to have some of the best world-renowned surgeons as well. People save 20% to 30% on health cost if they receive their health treatment in Brazil than in the US.
3. Malaysia
Malaysia ranks among the best providers of healthcare in all of South-East Asia. It offers excellent patient comfort with five-star rooms that look more like hotel suites than hospital rooms. Moreover, Health travelers who visit Malaysia save 65% to 80% on health cost compared to the cost in the US.
4. Thailand
Thailand medical tourism is known for its unique and advanced dental work as well as cosmetic and dermatological procedures such as breast implants, cosmetic surgery, dental implants, liposuction, and tummy tuck procedures.
Medical services in Thailand save 50% to 75% of the medical expenses, which they would have experienced for similar services in the US.
5. Turkey
Turkey is a strong contender in the areas of transplant surgery, radiation therapy for cancer, orthopedic surgery, neurosurgery, and genomic medicine. It is a medical destination that offers zero waiting period with affordable and quality healthcare delivery.
Cost of receiving quality healthcare in Turkey is 50% to 65% lower than in the United States.
6. Mexico
Mexico is most reputed for advanced care in dentistry and cosmetic surgery. It has 98 hospitals recognized by the country's Federal Health Ministry and 7 hospitals recognized by JCI. Medical care in Mexico saves 40% to 65% of the expanses as compared to the cost of similar services in the US.
7. Costa Rica
Costa Rica is fast rising as a leader in the medical tourism market. It has ranked high in dentistry and cosmetic surgery, above Canada and US in the last few years, and also building a name in the fields of eye surgery, cancer therapy, and bariatric surgery.
The medical expenses in Costa Rica are 45% to 65% lower than in the US.
8. Taiwan
With advancement in the treatment of cardiac diseases and orthopedic conditions, Taiwan is on the verge of becoming a hub in these medical fields. It claims to be the first country in Asia to transplant a kidney. Patients save 40% to 55% in healthcare cost in Taiwan as compared to the cost of similar services in the US.
9. South Korea
South Korea ranks at the top in minimally-invasive spinal surgery in the country, performing over 20,000 of such procedures annually. Moreover, insurance coverage offered in South Korea covers injury, stress disorders, and death of a patient which may occur as a result of the procedures or treatment they receive. Patients save 30% to 45% expenses as compared to cost in the United States.
10. Singapore
Singapore is sustaining a top spot in the World Health Organization's ranking of healthcare in Asian countries. Patients save 25% to 40% of medical expenses for the same services in the US.
If you are an individual or patient in Pakistan wanting to seek medical treatment or any other medical or cosmetic procedure abroad, whether it be breast implant, liposuction, stem cell therapy, plastic surgery or any other cosmetic or medical treatment, get in touch with Holistic Healthcare (Pvt.) Limited right away at 0300 8466333
We facilitate patients to travel abroad for any kind of medical treatment they may be seeking in over 10 countries worldwide. Fill out the enquiry form to send us a message.