Home health care services refer to supportive care provided in the home by female or male nursing or caregiving staff. Care may be provided by licensed healthcare professionals who provide medical treatment needs or by professional caregivers who provide daily assistance to ensure that the activities of daily life are met. The types of home health care services are limitless. Depending on the individual patient's situation, home health care can vary from nursing care at home to specialized medical services, such as medical assistance at home to nurses who work 24/7 to look after each and everything of the patient.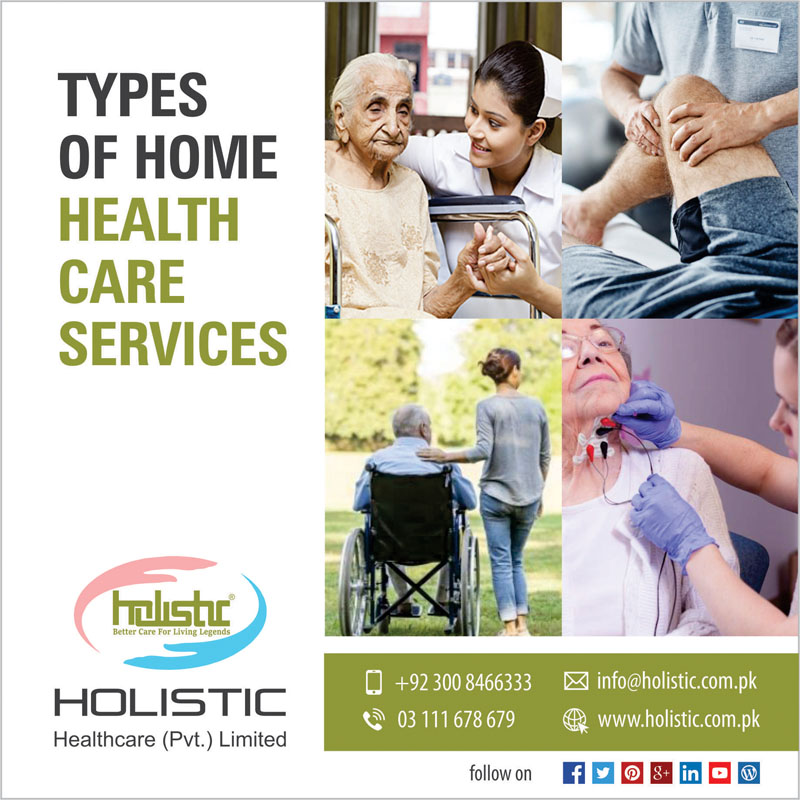 Listed below are a few of the different types of home health care services provided by health care agencies like Holistic Healthcare Services in Lahore, Faisalabad, Islamabad, and surrounding areas:
Doctor care
This type of home health care includes a visit from a doctor to the patient at their home to diagnose and treat their illness. The doctor may also sometimes review the home health care needs of the patient too.
Nursing care
The most common form of home health care service is some type of nursing care, where a registered nurse will set up a plan of care for the patient or elderly in need of care. It may include wound dressing, intravenous therapy, managing medication, monitoring the general health of the patient, pain control, and other health support that they may need.
Needed medical therapy
This type of nursing home care ensures that physicians help such patients in home, who need help relearning how to perform daily duties or to improve their speech after an illness or injury. A physical therapist, an occupational therapist or a speech therapist can help a patient regain the ability to move, think and communicate clearly.
Medical social services
Medical social workers provide various services to the patient, including counseling and locating community resources to help the patient during their recovery period. Some social workers are also the patient's case manager and they assist if the patient's medical condition is very complex and requires coordination of different services.
Home health care assistants
Home health care assistants can help the patient with their basic personal needs as well as with their daily work routine such as walking, bathing, and dressing. Some helpers also receive specialized training to assist with more specialized care under the supervision of a nurse such as with meal preparation, laundry, grocery shopping, and other housekeeping items.
Companionship and Volunteer care
Some patients who are home alone may require a companion to provide comfort and supervision. The companion should be able to listen to them calmly and should be the one whom they can talk their hearts out. Some companions may also perform household duties.
Pharmaceutical services
If the patient needs it, training to the home health care staff can be provided on how to take medicines or how to use the equipment, including intravenous therapy, medicines, and medical equipment. We can also deliver all kinds of medical equipment to your home directly. Similarly, certain laboratory tests, such as blood and urine tests, can be performed in the comfort of the patient's home.
The Second Home (Fraternity Old Age Home)
We have also partnered with The Second Home, formerly known as Fraternity Old Age Home, to provide the highest level of care for elderly and compromised individuals in Lahore. The dedicated team of paramedical staff at Fraternity Old Age Home takes care of all residents gracefully under the supervision of our highly professional management team.
For more information about the health care services provided by Holistic Healthcare Services in Lahore, Islamabad, Rawalpindi, Faisalabad, Sialkot, Gujranwala, Gujrat, Jehlum, Multan, Bahawalpur, Peshawar, and surrounding areas, give us a call at 03 111 678 679.
We have been operating as a health care service provider since 2006, and have served more than 3,000 patients and clients at their own homes with our professional and experienced team of doctors, nurses, caregivers, medical and non-medical attendants, physiotherapists, and speech therapists.