Patients who are mentally or physically ill or disabled might need medical equipment in order to support themselves. Holistic Healthcare Services takes the responsibility of providing this equipment to such patients. Apart from the equipment, we also provide medicines and medical devices to patients. We are a certified company allowed to import these items from any country all over the world (subject to law).
Let us have a look at some of the medical equipment and apparatus that Holistic Healthcare Services can arrange for patients:
Wheel Chair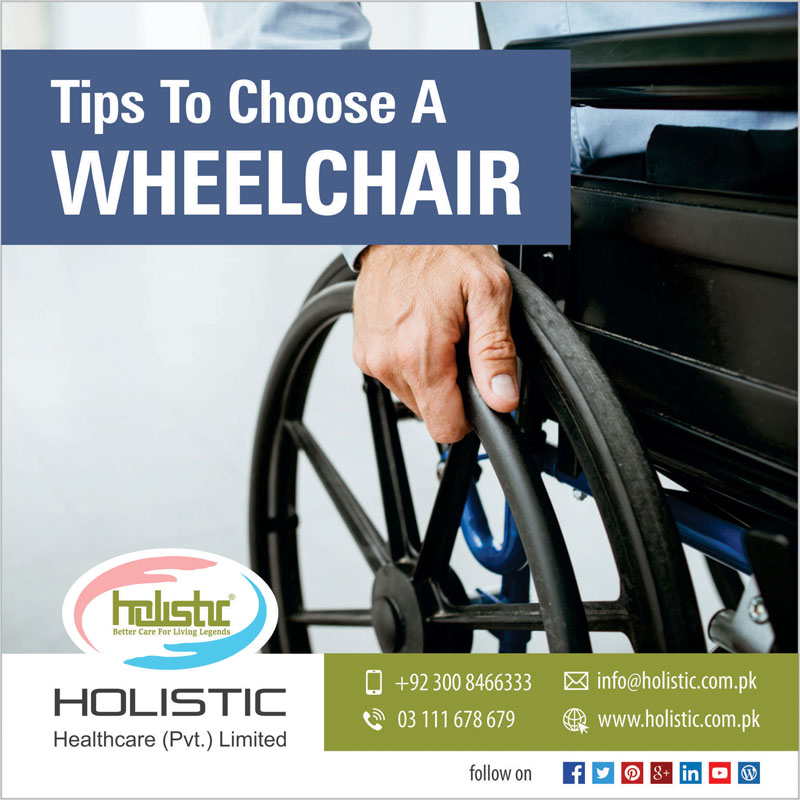 It is natural for people to focus on the wheel chair quality when they are about to buy it. However, we can assist you in buying the best possible wheel chair that matches your needs and body size.
If you require a wheel chair which is not bulky, is portable and will not bug you when you wish to travel with it, we can arrange a light weight wheel chair for you. We can also assist you in getting a wheel chair for those patients who are heavy weight. You just need to let us know your requirements and we will be there at your service. Call 03 111 678 679 to discuss your wheelchair requirements.
Air Mattress
If you have a bedridden patient at home who may be suffering from bed sores or pressure ulcers, then getting an Alternating Therapy Air Mattress should be your first priority. An air mattress helps with bedsores and wound healing.
Suction Machine
A suction machine is quite handy for patients who have severe congestion and want to unblock their airway. The substances that may need to be removed include blood, vomit, saliva, and mucus. A suction machine is also known as an aspirator. If you are in need of a suction machine for your patient, just let us know and we will arrange that for you.
We promise you to deliver a 100 percent original product that meets high-quality standards. Contact us at 03 111 678 679 whenever you need our help!
Pulse Oximeter
This machine is used to measure the level of oxygen in the body. A test called as pulse oximetry is conducted by which the level of oxygen in the body is determined. Holistic Healthcare Services can provide you with the best Pulse Oximeter machine in Pakistan at a reasonable price. Give us a call today at 03 111 678 679
Oxygen Cylinder
This machine is used for the transportation of compressed oxygen gas. It is used in hospitals normally for patients whose condition is quite critical. We can provide you with an Oxygen Cylinder which you can get installed at your home as well. This will be extremely handy for the patient as well as the family members.
Ventilator
A Ventilator is used for patients whose lungs have stopped functioning. If the patient is in need of a ventilator, Holistic Healthcare Services can arrange it for the patient.
12.1 Inch Multi-Parameter Monitor
This is used to check the parameters of a patient such as their heartbeat, respiration, oxygen level, and their temperature. Holistic can provide patients with this useful machine.
Digital Thermometer
A Digital Thermometer is used to measure the body temperature of a patient by showing the reading on a window within a few seconds. You can contact us at 03 111 678 679 to arrange any kind of digital thermometer that you require for your patient.
Drip Stand
A drip stand is used to hang drips with an adjustable buckle to adjust the height of the drip according to the patients' ease. You can contact us if you need a drip stand at home for your patient.
Bed Pan
A Bed Pan is used for patients who are bedridden and need to pass their stool while lying only. We can arrange this for your loved ones.
Blood Pressure Digital
A Digital Blood Pressure instrument is used to monitor the blood pressure of the patient. It can be quite useful as it will take seconds only to measure their blood pressure. We can easily arrange a blood pressure apparatus for you. Simply call us at 03 111 678 679 and let us know your requirements.
Hill Room Bed
Apart from the above-listed items and medical equipment, we can arrange any kind of bed that you want for your patient. Let us know which one and we can send it to your house.
If you need any other kind of medical equipment arranged for your patient, just let us know your requirements and we will do our best to arrange it for you.