The skin is the largest organ of the human body, making up 16% of body weight. It is a dynamic organ in a constant state of change and when any skin surgery is done or an injury wound takes place, immediate measures for surgical wound care should be taken in order to prevent any complications. This is crucial to take care of the skin properly. Patients who are shifted to their homes just after surgery need more care and attention as the staff at the hospital is a more trained and professional nurse in this regard.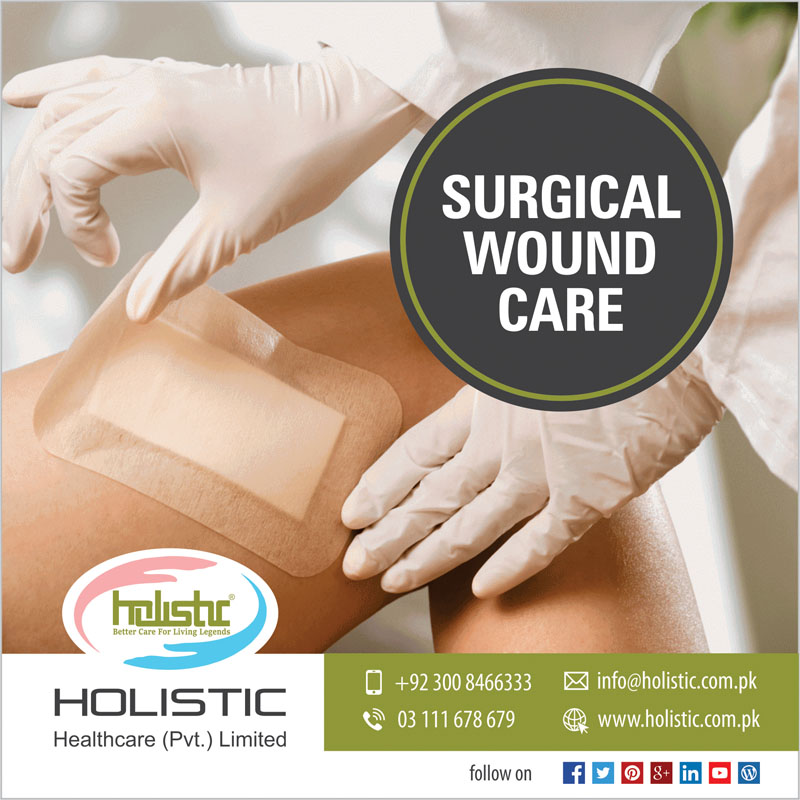 There are a variety of dressings that can be used on a surgical wound, and to determine which is the most effective one depends on what sort of wound the patient has, where the wound is, and especially its intensity. Dressings are in direct contact with the wound and are different from a bandage that just holds the dressing in place.
Guidelines for Surgical Wound Care
When it comes to home patient care, there are a few guidelines that can be very helpful in surgical wound care:
Cleanliness
It is very important to take care of the cleanliness of the wound in a home nursing facility while taking care of any surgical wound. Hygiene of the patient as well as that of the caregiver/professional nurse is extremely essential in order to take care of any kind of wound. Washing hands with a sterilizer is the most significant step in initiating proper dressing of the wound, whether it is home patient care or hospital care.
Removing old dressing & Putting a new one
Keeping the dressing on for more than a day can be very critical for any kind of wound. A male nurse staff or female nurse staff should know that it exaggerates the chances of infection and can be very harmful to the wound. Changing the dressing on daily basis as per the referred wound wash and medicine to prevent it from any kind of contaminations is important as it helps in healing of a wound.
Care of the wound
A caregiver/professional nurse should know firstly that any cream, lotion, herbal remedies, or powder should not be applied to the wound as it could be life-threatening for the patient. The home nursing staff should also take care of the medication routines properly as that would help heal the wound from inside as well as from the outside. Moreover, it is important to use clean and sterilized medical instruments for the treatment of wounds.
Types of Wound Care
In a home nursing facility, a female nurse or male nurse should know the types of wound care as that could be very useful in treatments of surgical wounds. Here is a list of the kinds of wound care:
Hydrocolloid
These dressings are used on burns, light to reasonably draining wounds, necrotic wounds, under compression wraps, pressure ulcers, and venous ulcers.
Hydrogel
These types of dressing are for wounds with little or no excess fluid, painful wounds, necrotic wounds, pressure ulcers, donor sites, second-degree or higher burns, and infected wounds.
Alginate
These dressings are used for moderate to high amounts of wound drainage, venous ulcers, packing wounds, and pressure ulcers in stage III or IV.
Collagen
This dressing can be used for chronic or stalled wounds, ulcers, bedsores, transplant sites, surgical wounds, second-degree or higher burns, and wounds with large surface areas.
If your patient is suffering from any kind of wound, be sure to seek immediate medical assistance for proper healing of the wound.
Call us at 03 111 678 679 for details and talk to our healthcare representative.